← My "Next Big Thing": Heloise and Abelard
Whom Would Jesus Kill? A Post for the New Year →
The Drinking Club for Literary Women
December 7, 2012
Dear Reader,
I'm probably the worst book group member of all time. I'm so busy reading, writing, and researching for my next historical fiction project that I have little time to read for pleasure — and when I do, it's a novel I want, and not just any novel but a damned good one because my time, did I say? My time for reading is very limited.
It's the writer's dirty little secret: The reason we started writing in the first place was because we love to read, but now we have much less time to read than before we became writers. The good thing is, writing a novel is even more enjoyable than reading one. 🙂
When I found that my book group, The Drinking Club for Literary Women, would discuss Ann Patchett's "State of Wonder," however, I downloaded it instantly onto my iPad and began to read. Having loved, loved, loved her "Bel Canto" and having devoured "The Magician's Assistant" and "The Patron Saint of Liars," I knew this book would be good.
I didn't, however, expect it to be THIS good, or our discussion last night — after several glasses of egg nog and a terrific Pendulum 2010 red wine, also surprisingly delicious — to be so stimulating.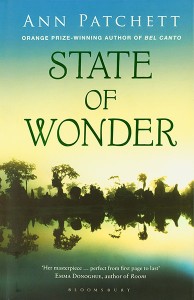 "State of Wonder" is an amazing and powerful book, Ann Patchett's best yet, which takes the reader deep into the heart of the Amazon jungle where Dr. Marina Singh goes looking for a colleague who has died there while on a mission to check into the research progress of the formidable Dr. Annick Swenson, her own former medical school professor. Resonating with images, themes, and even characters evoking Joseph Conrad's "Heart of Darkness," "State of Wonder" gives us the dense, dark, deadly jungle as metaphor for the self, for our own dark secrets and dark longings, and the letting go that we must do — of the past, of self-doubt and guilt, of who we think we are — to live authentically. This beautifully written book will haunt my thoughts and dreams for a long time.
ON another note, I do apologize for taking so long to announce winners of my "Jewel of Medina" 4th anniversary giveaway. I began renting my a writer's studio away from my home without internet, which has been great for my work-in-progress but bad for everything else.
Those of you who signed up for this book, please send your mailing address to me at sherry@authorsherryjones.com, and I will mail your signed copies to you very soon. I promise. 🙂
Keep reading!
Sherry
---
This entry was posted in
Uncategorized
. Bookmark the
permalink
.
← My "Next Big Thing": Heloise and Abelard
Whom Would Jesus Kill? A Post for the New Year →