← Writer in the Kitchen: Bratwurst and Sauerkraut to Die For
QUEENS: It's Launch Day in Poland! →
Censored! The Banning of My Books
September 24, 2013

It's Banned Books Week! Did you know my first novel, THE JEWEL OF MEDINA, has been banned in several countries including Malaysia and, when I went there in 2011, Egypt? Why? Because I wrote about the Prophet Muhammad and his youngest wife, A'isha. Before it was even released, the book spurred an angry demonstration in Bangladesh, death threats against me, and an attempt on my British publisher's life. He canceled his plans to publish my book, and no other British publisher will touch it. This means THE JEWEL OF MEDINA has been effectively banned in the UK and Commonwealth countries, as well, including India, New Zealand, and Australia. (It is now available on Amazon UK, however.)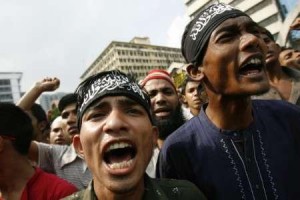 In the US, my original publisher backed out of publishing only 2.5 months before THE JEWEL OF MEDINA's release, citing warnings that they might be attacked by terrorists. We found another, very small publisher after 8 big New York and L.A. houses considered it — 6 of them declining out of fear! Beaufort Books, my U.S. publisher, could not afford to release the book in paperback, however, and so many bookstores don't carry it or the sequel, THE SWORD OF MEDINA, which is also banned in many countries. This is another kind of censorship.

Salman Rushdie called Ballantine/Random House's decision not to publish "self-censorship."
Rushdie has also said, "Without the freedom to offend, there is no freedom of speech."
The good news: these two books are sold in many other places around the world, and have been international best-sellers. Readers still write, tweet, and Facebook to me telling me how A'isha's story has touched their lives. For all its effort to suppress ideas, censorship loses again.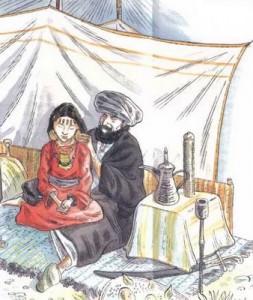 When I get my publication rights to JEWEL again in 2015, I'm going to release it all around the world. I'm also looking for an Arabic translator so we can bring it out in Arabic online. A'isha was the most famous and influential woman in Islam, and Muhammad was a big reason why — a story that ought to be told in their language.
Want to hear more about my experience and those of other authors? Come to the Auntie's Bookstore panel on censorship tonight at 7. Jill Malone, Doug Clark, Shawn Vestal, and Chris Crutcher will join me for what promises to be a lively discussion. Hope to see you there!
Not a subscriber? Why not? Subscribe now to get the latest updates on my books, including my forthcoming novel, THE SHARP HOOK OF LOVE, telling the story of Heloise d'Argenteuil of Heloise & Abelard fame, debuting from Simon & Schuster/Gallery Books in october 2014.
Related posts:
Courage, Islam, the West, and THE JEWEL OF MEDINA
Death Threats, Fatwas, and Feminism
---
This entry was posted in
Uncategorized
and tagged
" "Random House"
,
"The Jewel of Medina
,
"The Sword of Medina"
,
A'isha
,
Ballantine
,
Beaufort Books
,
Gibson Square Books
,
historical fiction
,
Islam
,
Muhammad
. Bookmark the
permalink
.
← Writer in the Kitchen: Bratwurst and Sauerkraut to Die For
QUEENS: It's Launch Day in Poland! →