← QUEENS: It's Launch Day in Poland!
Redeeming Josephine: Heather Webb Gets Personal →
Optimistic about 2014? You bet!
December 30, 2013
The headlines say that we Americans are feeling optimistic about 2014. I know I am. I'm ready for the New Year to cut in on the twisted dance I've been doing with 2013, a terrible partner who keeps stepping on my toes. It's time for merriment and joy. It's time for 2014 to take me in its arms and spin me around until I lose my breath. Most of all, it's time for the madness to stop.
2014: I've got a great feeling about it. I look ahead and see blisses big and small on our national landscape as well as my personal one. On the national front, sanity at least has a toehold and may even reign by year's end: The Supremes might uphold the right of people to marry each other regardless of gender; people might be able to afford not only their health insurance but also their health care; Spokane, Washington's first-in-memory progressive City Council might achieve some actual progress in spite of the Tea Party mayor voters elected last time around.
What's not to feel optimistic about?
Basking in the glow of all this hope, I can hardly contain myself. And with good reason — 10 of them, at least.
Here are 10 reasons why I'm excited about 2014:
1. So many books, so little time!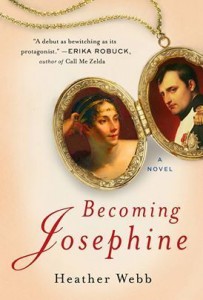 Books debuting this year that I'm especially excited about include GIRL ON THE GOLDEN COIN, by Marci Jefferson, which I read and really enjoyed; BECOMING JOSEPHINE by Heather Webb, another terrific debut — debuting Dec. 31, but still.
THE MAPMAKER'S DAUGHTER by Laurel Corona was terrific, too, and Iris Anthony's lovely pilgrimage book, THE MIRACLE THIEF. The inimitable Michelle Moran is writing THE LAST QUEEN OF INDIA, sure to be amazing. Alice Hoffman has a new one coming out, as do Erika Robuck, Diana Gabaldon, and Sharon Kay Penman. Whew!
And in 2014, I plan to read more by my new favorite author, the late Dorothy Hansford Johnson. I've just ordered the third installment in her wonderful Helena trilogy, A SUMMER TO DECIDE, having devoured TOO DEAR FOR MY POSSESSING and AN AVENUE OF STONE.
2. THE SHARP HOOK OF LOVE, a tale of Abelard and Heloise, debuts in October. I am so psyched about the debut of this famous love story, told many times in the past but not since Australian scholar Constant Mews (gotta love that name) discovered 113 passionate, beautiful "Lost Love Letters" between the two. I'm now writing two e-novellas about kick-in-the-pants women from HOOK — Queen Bertrada of Montfort, and Dangereuse, lover to William IX, Duke of Aquitaine, the first troubadour — both of which will also debut this year.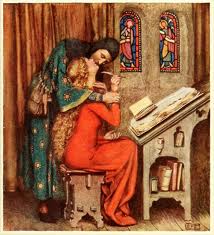 3. I am single, again. After 3.5 years of trying so hard to overcome critical differences in our personalities, my former b.f. and I have thrown in the towel on romance, but not on an enduring and loving friendship. This is a sad ending, but also an exciting time for me, opening up all kinds of possibilities for personal life choices. I could live anywhere! Paris? New York? Should I go to grad school and get my MFA in creative writing?
And after spending summer 2013 working frantically to meet a fall deadline for my novel, I've got road trips on my mind this year: Santa Fe, to see a cherished friend; Reno, to visit another. And, come hell or high water, I'm going back to Burning Man!
4. My freelance writing and editing business, Siren Song Copywriting and Editing, continues to grow. In 2014, I expect to serve more, better clients than ever with some of my very best work.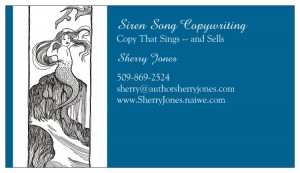 5. My 1909 house is going to get lots and lots of attention, as I transform it into my own personal Paradise. I'll paint every room, make curtains for all the windows, fill my house with greenery and art, plant raised beds for vegetables as well as perennials in my enormous yard (and maybe even a peach tree), and turn the spare room into a guest bedroom for friends, writers, and special guests, of whom I hope to have many in the coming year.
6. I'm going to make a boatload of new friends! I do every year, so why should this one be any different? I have such a wonderful community, here in Spokane and around the world — including you. I expect that, in the coming year, we'll get to know each other better and better.
7. My blog is going to really take off. In addition to updating my readers about my own books, I'm also going to post travel, food and wine articles as well as posts about writing and reading. Until now, I've been blogging happily for others, but neglecting my own website and blog. That's going to change this year.
8. My body is going to be its best ever! Because I'm exercising. Every day. It's now-or-never time, while I'm still in good condition. At 52, it's time to get strong, fit, and limber before my body rebels against my devil-may-care lifestyle. At least, if I'm in great shape, I may be able to keep the lifestyle.
9. I'll be speaking French fluently by the year's end! After all, I'll need to master the language for my tour of France promoting THE SHARP HOOK OF LOVE (That's optimism!). I also plan to learn how to write HTML code, to play jazz piano (I already play classical), and to become a cheese maker, because we're blessed.
10. In addition to fixing up my house, I'm going to become Spokane's Hostess Extraordinaire! Parties galore, as well as intimate dinner gatherings and even a salon or two are in the works. Come on by: the soup pot is always on, and I almost certainly have a bottle of wine or two to share.
Keep up with the Jones! Author Sherry Jones, that is. Subscribe now to this blog for updates on great reads, for glimpses into the writing life, for info on the forthcoming THE SHARP HOOK OF LOVE, and more. And do check out my website while you're here.
---
This entry was posted in
Uncategorized
and tagged
Abelard
,
Alice Hoffman
,
American optimism
,
Diana Gabaldon
,
Dorothy Hansford Johnson
,
Erika Robuck
,
Heather Webb
,
Heloise
,
Iris Anthony
,
Laurel Corona
,
Marci Jefferson
,
Michelle Moran
,
Middle Ages
,
New Year's resolutions
,
Paris
,
Sharon Kay Penman
,
Siren Song Copywriting
. Bookmark the
permalink
.
← QUEENS: It's Launch Day in Poland!
Redeeming Josephine: Heather Webb Gets Personal →