← Optimistic about 2014? You bet!
A Contest! Win an ARC of THE SHARP HOOK OF LOVE! →
Redeeming Josephine: Heather Webb Gets Personal
February 10, 2014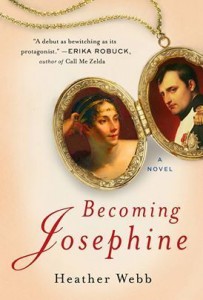 Come on over and read my provocative interview with Heather Webb, author of BECOMING JOSEPHINE, about the first Empress of France's fascinating life and many loves. Are all the stories of orgiastic decadence true? Webb gets to the heart of the seductive Rose de Beauharnais, daughter of a Martinique plantation owner who lived by her wits in Revolution-Era Paris as lover to France's most powerful men, but who was a formidable force of nature in her own right.
While you're there, be sure to enter the giveaway for a chance to win a copy of her book!http://booktrib.com/2014/02/redeeming…
And don't forget to share this great read with your friends!
Sherry
---
This entry was posted in
Uncategorized
and tagged
19th century
,
author interviews
,
French Revolution
,
Heather Webb
,
historical fiction
,
history
,
Josephine Bonaparte
,
Napoleon
,
Paris
,
Rose de Beauharnais
. Bookmark the
permalink
.
← Optimistic about 2014? You bet!
A Contest! Win an ARC of THE SHARP HOOK OF LOVE! →