← Redeeming Josephine: Heather Webb Gets Personal
Congratulations! You win THE SHARP HOOK OF LOVE!!! →
A Contest! Win an ARC of THE SHARP HOOK OF LOVE!
June 27, 2014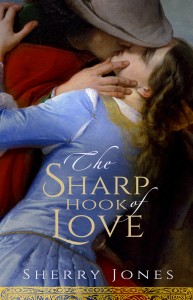 Psst! Don't want to wait until November to read THE SHARP HOOK OF LOVE? Great news!! I'll give away 10 Advance Reading Copies in July to people who pre-order my new novel TODAY.
Here's how to qualify: Pre-order your copy of this sweeping romantic, historical novel from your favorite retailer TODAY (Friday, July 27), send me proof of your purchase here or at sherry (at) authorsherryjones.com, and I'll include your name in a drawing on Monday to select 10 lucky winners of an ARC of THE SHARP HOOK OF LOVE — available in July! (U.S. readers only)
Share this promotion for added chances to win — pre-order purchasers get another chance to win for each online share. Let's go viral!
The book debuts Nov. 25, just in time for Christmas, and would make a great Christmas gift, hint, hint!
Need more incentive? Here's the description:
Among the young women of 12th century Paris, Heloise d'Argenteuil stands apart. Extraordinarily educated and quick-witted, she is being groomed by her uncle to become an abbess in the service of God.
But with one encounter, her destiny changes forever. Pierre Abelard, headmaster at the Nôtre Dame Cloister School, is acclaimed as one of the greatest philosophers in France. His controversial reputation only adds to his allure, yet despite the legions of women swooning over his poetry and dashing looks, he is captivated by the brilliant Heloise alone.
As their relationship blossoms from a meeting of the minds to a forbidden love affair, both Heloise and Abelard must choose between love, duty, and ambition.
Sherry Jones weaves the lovers' own words into an evocative account of desire and sacrifice. As intimate as it is erotic, as devastating as it is beautiful, The Sharp Hook of Love is a poignant, tender tribute to one of history's greatest romances, and to love's power to transform and endure.
I KNOW you will love this book! Pre-order now so you don't forget — and good luck!
---
This entry was posted in
Uncategorized
and tagged
12th century
,
historical fiction
,
historical romance
,
Middle Ages
,
Paris
. Bookmark the
permalink
.
← Redeeming Josephine: Heather Webb Gets Personal
Congratulations! You win THE SHARP HOOK OF LOVE!!! →