← Older posts
Newer posts →
October 30, 2014
What an exhilarating three-week blog tour for my new Abelard-and-Heloise novel, "The Sharp Hook of Love." Check out these excerpts, compiled by tour organizer Emma:
 TOUR QUOTATIONS
The Sharp Hook of Love has been the best historical romance I have read this year, and I have been privileged to read quite an abundance of great books in 2014. Jones' lyrical style, along with her brilliance to bring this memorable historical couple to life will leave you in awe – torturously pleasing, achingly beautiful. For those unfamiliar with Heloise and Abelard what a wonderful way to discover a story penned with talent and competency on Jones' part, no doubt you are in for a real treat. Cannot recommend this tale of unfaltering love enough, bravo Sherry Jones.
I truly loved this novel. I hope that all the feelings were true. Pick this book up. You won't regret it. It's a love story that should be known and forever remembered. It's a great example or discourse on what love was like back then, who was allowed to love, what the cost was, and what the reward was. Jones tackles the topic of societal norms and expectations of that era, without deterring from the lovers' story. I hope you enjoy it as much as I did. 

I highly recommend THE SHARP HOOK of love not only because it is a compelling love story, but also because it is a well-researched historical novel set in twelfth century France.
I have to say this is one of my favorite books!  I could not put it down.  I added Sherry Jones' other books to my to-read pile!  Amazing author! Amazing story!
There is so much substance to this book, showing the author's knowledge and depth of research that went into this story.  Not just her knowledge of the characters but of the time period as well, the lifestyle and culture were shown in a way that had me visualizing so much.  Written with feeling and sensitivity Sherry Jones had me consumed, wanting to reading just a little more till I was finished.
I can't imagine the amount of research and the leap of imagination it took for Jones to bring these historical characters to life… If you enjoy historical romances, I think you don't want to miss this one.
VERDICT: Based on Heloise and Abelard's letters and many other documents and studies, The Sharp Hook of Love reminds modern readers of the most famous Medieval couple, of their powerful love and their numerous obstacles to live it. Combining romance and elements of mystery, this is a must read to know more about how a brilliant European woman lived and fought in the Middle Ages.

I liked the way Sherry developed her characters and set the scenes. Once you start this book you will not want to put it down. I am going to look for more books by this author.
I have to say as well I really liked the books cover and how much it looks like fine art. Which is just what this book was fine art, well written and interesting.
The Sharp Hook of Love is an emotional read. It is a mesmerizing read. It is a haunting and memorable read.
I loved how the chapter headers incorporated original text from the letters Heloise and Abelard wrote to each other. The feelings and emotions are expressed so well from the brief passages.
it's a deeply-felt romance that also raises some interesting and philosophical questions about the nature and impact of love.
Sherry Jones has written a novel that explores the role that women had in medieval Europe.
Tour quotations: The Sharp Hook of Love | France Book Tours
Posted in
Uncategorized
|
Leave a comment
October 23, 2014
I really hate making everything all about me. On my social media sites, my friends and followers must be grinding their teeth in boredom right now, sick to death of hearing about my new book only two weeks after its release. But what's an author to do? The number of books published annually in the U.S. has grown exponentially in recent years — from 10,000 a year in 2004 to nearly 300,000 today, thanks mostly to self-publishing, I presume. This explosion of books might level the playing field for writers (whether that's good or bad depends on your perspective), but for those of us who've worked all our lives honing our skills so we could become one of those lucky few published authors, it's not such a welcome increase. The fact is, many, many self-published books (they used to call them "vanity" books, for a good reason) are mediocre at best, dumbing down the people who read them and, as a result, our culture as a whole. But don't get me started.
Now that I've offended all my self-published-writer friends, I'll move on to the topic at hand: promoting ourselves. Competing with 9,999 other vetted, presumably-decent-quality books must have been daunting a decade ago, but pitting my novel against 299,000, mostly poorly-written and on sale for 99 cents, feels overwhelming. It feels like my book is a tree that fell in the forest but, whether anyone is around to hear it or not, they probably can't amid the collective crash of 33 other trees falling in the same hour.
Garbage in, garbage out
When I start work on a novel, I read only the best writing I can find. I have a garbage-in, garbage-out mentality (and you should too). I read "Wolf Hall" while I wrote "Four Sisters, All Queens," which may be the reason I wrote it in third person, present tense, irking some readers to no end. I read "The Dovekeepers" before I started "The Sharp Hook of Love," which may account for its serious tone. (I know it influenced the original prologue, which got removed during editing but which, liking it as I do, I plan to offer for free on my Swag page soon.) As I write my forthcoming novel about the African-American-turned-Parisian dancer and chanteuse Josephine Baker, I'm re-reading Joyce Carol Oates's "Blonde," about Marilyn Monroe. It's one of my favorite books of all time, with the kind of writing I adore: filled not with plot twists but with writing surprises, with aha! moments in which you see a thing in a new light or, better yet, in a way you'd always seen it but never before put into words. This is how I want my next book to be, so interesting and stimulating that even I, who never re-read my books, will want to read it again and again.
As I read, I wonder: does Joyce Carol Oates blog? Does she send out letters on Goodreads to all her friends announcing each new book? Does she bore her Facebook friends with post after post, photo after photo, event invitations ad nauseous about her appearances? Does she check her Amazon rankings, or make videos of herself talking or reading, or tweet the latest reviews, or pay someone to organize blog tours? Does she hustle her book at events, or stand on her feet, behind a table stacked with her books, for hours at book fairs or trade shows?
I've done all these things in the interest of drumming up attention, and sales, for my books. I'm not alone, either. Read Tinney Sue Heath's hilarious post about the lengths she's gone to to promote her new novel. If you're an author, your laughter may contain more than a tinge of unease, as you recognize yourself.
The rumor about Ms. Oates
My good friend Debra Magpie Earling, author of the wonderful Perma Red and creative-writing professor at the University of Montana, told me she'd heard that Ms. Oates writes continuously, even while she's speaking publicly. She'd never believed this tale, she said, until she witnessed it herself. Standing in the wings during one of Ms. Oates's speeches, she spied Joyce's hands on a keyboard under the lectern, typing away as she spoke.  Somehow, with more than 40 novels plus novellas, non-fiction books, and short-story and poetry collections to her credit — in addition to teaching — I doubt she was writing her next blog post.
Where do I stop? With "Four Sisters, All Queens," I decided not to spend my precious time writing blog posts except when invited by others to do so. That decision worked out just fine; this book is still selling fairly well, more than two years after its May 2012 debut. Maybe, like Ms. Oates, I ought to save my writing for the work that pays: my freelance work and my books. I'm 53, after all, and I've published only four novels and one novella. I've got a lot of catching up to do if I'm to compete with Joyce Carol Oates — quality-wise or quantity-wise. Forty novels! "Blonde"! Now here are reasons to compete.
Posted in
Writing life
| Tagged
blogging
,
Blonde
,
Debra Earling
,
Facebook
,
Marilyn Monroe
,
Perma Red
,
self-publishing
,
social media
,
Twitter
,
writing
|
Leave a comment
October 22, 2014
Emma at Words and Peace praises THE SHARP HOOK OF LOVE in this finely honed, intelligent review, but also questions some of the choices I made in writing the story. Be sure to read my responses in the comments section! And then keep your eyes open for the "missing chapter" I talk about here, coming soon! In the meantime, come over to my swag page for access to a beautiful video presentation of the couple's newly-discovered "lost love letters": exchanged during their love affair!
Book review and giveaway: The Sharp Hook of Love – I love France #119 | Words And Peace.
Posted in
SHOL Reviews
|
2 Comments
October 10, 2014
It's always great to be interviewed by a journalist, and given the chance to speak my truths. This interview ran in the Sunday, Oct. 5 Spokesman-Review, Spokane's daily newspaper. Enjoy!
Book Review: Sherry Jones' 'The Sharp Hook of Love' – Spokesman.com – Oct. 5, 2014.
Posted in
Uncategorized
|
Leave a comment
October 9, 2014
Another wonderful review, from Kimberly Eve: "The Sharp Hook of Love is a beautiful love story I would wholeheartedly recommend." And I wholeheartedly recommend you read her blog!
Kimberly Eve Musings of a Writer: A review of The Sharp Hook of Love by Sherry Jones.
Posted in
Uncategorized
|
Leave a comment
October 9, 2014
"Historical author Sherry Jones is one of the most lyrical, poetic writers of historical and biographical fiction that exists. In all my reading of historical fiction, I've rarely seen anyone write sentences with the emotion, depth of feeling, and silky sounding, dripping with detail sentences as Sherry does. As well, her character development, of which usually one is many times in first person, is so dimensional that the historical people come vividly to life."
The Tale of 12th Century Abelard and Heloise Shows Love Can Endure All Things: Excellent Read! | Oh, for the HOOK of a BOOK!.
Posted in
SHOL Reviews
|
Leave a comment
October 9, 2014
Guest Post by Sherry Jones: The Greatest Love Story of All Time: Abelard and Heloise | Judith Starkston.
Posted in
Uncategorized
|
Leave a comment
October 6, 2014
The passionate story of star-crossed lovers Heloise and Abelard is well known, but Jones (The Jewel of the Medina; Four Sisters, All Queens) makes the classic tragic tale all too human in her new novel, which deftly explores the complexity of love between two brilliant and strong-willed people caught up in the pursuit of fame and independence as well as passion. Readers will recognize the familiar conflicts between what constitutes love and sacrifice for a man and what it means to a woman, and they will be struck anew by the dichotomy of mutual passion that both draws men and women together and tears them apart. All the while, in the background courtiers, scholars, canons, and bishops jockey for power, prestige, and a place in history, ready to destroy anyone who gets in their way.
Verdict A colorful, compelling tale that will appeal to any reader, though one wishes the unique character of the brilliant Heloise had been more fleshed out before the introduction of the spellbinding Abelard.
via Fiction from Cameron, Fournier, Jones, Littlefield, Twelve Hawks, & Zeltserman | Xpress Reviews.
Posted in
Uncategorized
|
Leave a comment
October 2, 2014
"Emotional heft." "Subtle and complex." "Readers will push to the end determined to find out if there never was a tale of more woe than that of Heloise and her Abelard, or if, for once, true love is able to triumph over everything that would see it destroyed."
These words of praise come from Kirkus Reviews, one of the most highly respected literary  review publications in the U.S., in its newly released review of THE SHARP HOOK OF LOVE, my novel of Abelard and Heloise debuting Tuesday, Oct. 7. I couldn't be more delighted!
Here's the full review:
KIRKUS REVIEW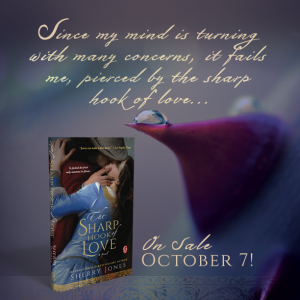 Heloise d'Argenteuil is a brilliant scholar, and Pierre Abelard is a philosopher whose work titillates all of Paris. When Abelard is hired to tutor Heloise, it's the beginning of an all-consuming and forbidden love affair that could cost them everything.
So begins an epic romance based on the original letters between the famous 12th-century lovers. While their love flares and burns like a fabulous Roman candle, they are pitted against the strict rules of Parisian society, a wrathful uncle and their own teeming ambitions. They cling together in a world that insists on tearing them apart, yet even as their desire for each other continues unabated, the cost of being together takes its toll, with drastic consequences for both of them. Jones (Four Sisters, All Queens, 2012, etc.) weaves history and passion in a tale full of emotional heft that questions what it means to truly love someone. At times her writing is overly lush, and she focuses on painting a maelstrom of emotions rather than building up the events that created those emotions. Abelard and Heloise are rushed into a courtship before the reader has a firm understanding of who they are, yet Jones' characterization is complex and subtle. In the way of all lovers who love without knowing if they have a future together, Abelard's and Heloise's motivations keep changing, leaving the reader wondering what will happen next.
Readers will push to the end determined to find out if there never was a tale of more woe than that of Heloise and her Abelard, or if, for once, true love is able to triumph over everything that would see it destroyed.
Posted in
Uncategorized
|
Leave a comment
September 2, 2014
Abelard and Heloise's Love Story "True and Deep"
I am delighted to present to you the first full-length review of my forthcoming Abelard-and-Heloise novel, THE SHARP HOOK OF LOVE, on Colleen Turner's wonderful Historical Tapestry blog. If you like this review, be sure to go over and check out her others, and subscribe to receive her future posts.
The Sharp Hook of Love: Review and Giveaway Information!
Synopsis:
Among the young women of 12th century Paris, Heloise d'Argenteuil stands apart. Extraordinarily educated and quick-witted, she is being groomed by her uncle to become an abbess in the service of God.
But with one encounter, her destiny changes forever. Pierre Abelard, headmaster at the Nôtre Dame Cloister School, is acclaimed as one of the greatest philosophers in France. His controversial reputation only adds to his allure, yet despite the legions of women swooning over his poetry and dashing looks, he is captivated by the brilliant Heloise alone. As their relationship blossoms from a meeting of the minds to a forbidden love affair, both Heloise and Abelard must choose between love, duty, and ambition.
Sherry Jones weaves the lovers' own words into an evocative account of desire and sacrifice. As intimate as it is erotic, as devastating as it is beautiful, The Sharp Hook of Love is a poignant, tender tribute to one of history's greatest romances, and to love's power to transform and endure.
So What Did I Think About The Story?:
The Sharp Hook of Love might be one of the most poetic and beautifully written novels I have read in quite some time. I found myself rereading passages out loud just to hear them spoken. The way the author included quotes from the lovers' letters to each other really helped solidify not only the ardent love they experienced but the hurt, fear and confusion that came from going against the destinies set before them and the political, religious and societal norms and rules they were breaking at every turn.
The Sharp Hook of Love might be one of the most poetic and beautifully written novels I have read in quite some time.
What I enjoyed even more than the beautiful writing, however, was the unbelievable complexity of the feelings between Heloise and Abelard. Both of these characters are flawed in their own way and yet their love is true and deep. Abelard is brilliant beyond compare in so many ways – he's a poet, philosopher, teacher, singer and songwriter – and he has no problem letting everyone know it! At times he comes off as arrogant, rude and manipulative and I found myself questioning his motives in regards to Heloise. Then as the story progressed I discovered how much he actually sacrificed for love and I realized that any man who didn't love a woman as he loved Heloise wouldn't have risked all he did to be with her whenever he could. Heloise isn't perfect herself, conducting her love affair under her uncle's roof knowing full well she is meant for the abbey and, feeling abandoned and pained, eventually elicits the help of this very same uncle, who she knows wants nothing more than to bring down Abelard, inadvertently taking away any chance of the two living happily-ever-after. These very imperfections are what makes this love story feel so real, unusual and meant to go down in history. No matter what they do to each other that sharp hook embedded in each of their hearts will never let go!
It is quite clear that Sherry Jones did a good amount of research into not only these two captivating people's lives but also into the environment they lived in. The descriptions of the architecture, the streets and the people all come to life on the page. To fully immerse themselves in the story the reader has to also fully immerse themselves in the time and place in which their lives unfold, and the author makes this easy to do. Heloise's vibrant intelligence and wit is not appreciated or, seemingly, wanted in her lifetime and she has very few choices when the men in her life try to determine what course her future should take. This was very hard to read at times, especially given the sacrifices she will have to make (I don't want to give too much away!), but this makes the choices she does make that much more poignant and heartbreaking. The author does not shy away from the very real and very harsh historical truths and I, for one, really appreciate that when reading historical fiction.
The Sharp Hook of Love presents a love story out of time and one, given the time it DOES fall into, seemingly destined to fail. However these two intelligent and determined people will not let their world dictate what they feel in their hearts and, even given all the hurt caused, both want nothing but each other when their last days arrive. This is a heartbreaking and tragic story yet one that is also inspiring and completely captivating.
So What Did I Think About The Cover?:
Absolutely swoon-worthy! The passion these two felt for each other is front and center and the bright and vibrant colors draw the eye right in.
My Rating: 5.0/5.0!
Giveaway Information
The Sharp Hook of Love will release on October 7th, 2014 but you can enter to win your own copy before it releases! Goodreads is running a giveaway right now so be sure to head over there and enter to win (the giveaway is running until September 4th, 2014 so hurry!). Go HERE to add the book to your wishlist and enter the giveaway.
Sherry Jones is also giving away 100 copies of her e-novella White Heart, about Blanche de Castille, the protagonist in her novel Four Sisters, All Queens, so head over to her website HERE now to enter to win a copy!
About The Author
Sherry Jones is an American journalist and internationally best selling author of the controversial "The Jewel of Medina" and other historical fiction novels about women's power. She is also a speaker on issues including women's rights, free speech, and Islamophobia.
Her forthcoming novel, THE SHARP HOOK OF LOVE, tells of the forbidden love affair between two of the Middle Ages' greatest intellectuals: Peter Abelard, headmaster of the Notre-Dame Cloister School and a poet whose good looks and love songs make women swoon; and Heloise d'Argenteuil, a beautiful woman scholar being groomed by her uncle to become an abbess. This erotic, passionate story about the sacrifices we make for love debuts October 7th from Simon and Schuster's Gallery Books.
Posted in
SHOL Reviews
|
Leave a comment
← Older posts
Newer posts →