← Older posts
Newer posts →
August 3, 2014
Wouldn't you love to see this message in your inbox?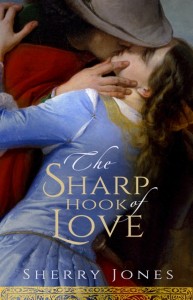 If you love the story of Abelard and Heloise, or historical fiction, or a great romance, or even poetry and philosophy, you'll want to read THE SHARP HOOK OF LOVE.
It debuts Oct. 6, but my publisher, Simon & Schuster/Gallery, has generously offered a limited number of SIGNED copies to give away in September, in advance of the publication date!
To win a FREE copy of THE SHARP HOOK OF LOVE, go to my Swag page and fill in the form there. Then, make sure to check your inbox (or spam folder) right away to confirm your entry. I'll select one winner for every 10 contestants — a number that's rapidly growing.
Winners will have the finished book in their hands in September, weeks before anyone else! This contest is open to U.S. and Canada residents only.
Posted in
Uncategorized
| Tagged
Abelard
,
Heloise
,
Medieval
,
Middle Ages
,
new historical fiction
,
Paris
,
philosophy
|
2 Comments
June 27, 2014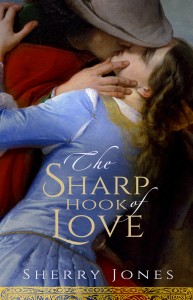 Psst! Don't want to wait until November to read THE SHARP HOOK OF LOVE? Great news!! I'll give away 10 Advance Reading Copies in July to people who pre-order my new novel TODAY.
Here's how to qualify: Pre-order your copy of this sweeping romantic, historical novel from your favorite retailer TODAY (Friday, July 27), send me proof of your purchase here or at sherry (at) authorsherryjones.com, and I'll include your name in a drawing on Monday to select 10 lucky winners of an ARC of THE SHARP HOOK OF LOVE — available in July! (U.S. readers only)
Share this promotion for added chances to win — pre-order purchasers get another chance to win for each online share. Let's go viral!
The book debuts Nov. 25, just in time for Christmas, and would make a great Christmas gift, hint, hint!
Need more incentive? Here's the description:
Among the young women of 12th century Paris, Heloise d'Argenteuil stands apart. Extraordinarily educated and quick-witted, she is being groomed by her uncle to become an abbess in the service of God.
But with one encounter, her destiny changes forever. Pierre Abelard, headmaster at the Nôtre Dame Cloister School, is acclaimed as one of the greatest philosophers in France. His controversial reputation only adds to his allure, yet despite the legions of women swooning over his poetry and dashing looks, he is captivated by the brilliant Heloise alone.
As their relationship blossoms from a meeting of the minds to a forbidden love affair, both Heloise and Abelard must choose between love, duty, and ambition.
Sherry Jones weaves the lovers' own words into an evocative account of desire and sacrifice. As intimate as it is erotic, as devastating as it is beautiful, The Sharp Hook of Love is a poignant, tender tribute to one of history's greatest romances, and to love's power to transform and endure.
I KNOW you will love this book! Pre-order now so you don't forget — and good luck!
Posted in
Uncategorized
| Tagged
12th century
,
historical fiction
,
historical romance
,
Middle Ages
,
Paris
|
Leave a comment
February 10, 2014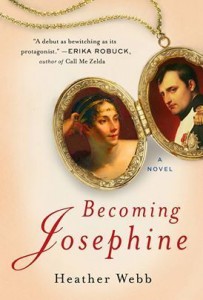 Come on over and read my provocative interview with Heather Webb, author of BECOMING JOSEPHINE, about the first Empress of France's fascinating life and many loves. Are all the stories of orgiastic decadence true? Webb gets to the heart of the seductive Rose de Beauharnais, daughter of a Martinique plantation owner who lived by her wits in Revolution-Era Paris as lover to France's most powerful men, but who was a formidable force of nature in her own right.
While you're there, be sure to enter the giveaway for a chance to win a copy of her book!http://booktrib.com/2014/02/redeeming…
And don't forget to share this great read with your friends!
Sherry
Posted in
Uncategorized
| Tagged
19th century
,
author interviews
,
French Revolution
,
Heather Webb
,
historical fiction
,
history
,
Josephine Bonaparte
,
Napoleon
,
Paris
,
Rose de Beauharnais
|
Leave a comment
December 30, 2013
The headlines say that we Americans are feeling optimistic about 2014. I know I am. I'm ready for the New Year to cut in on the twisted dance I've been doing with 2013, a terrible partner who keeps stepping on my toes. It's time for merriment and joy. It's time for 2014 to take me in its arms and spin me around until I lose my breath. Most of all, it's time for the madness to stop.
2014: I've got a great feeling about it. I look ahead and see blisses big and small on our national landscape as well as my personal one. On the national front, sanity at least has a toehold and may even reign by year's end: The Supremes might uphold the right of people to marry each other regardless of gender; people might be able to afford not only their health insurance but also their health care; Spokane, Washington's first-in-memory progressive City Council might achieve some actual progress in spite of the Tea Party mayor voters elected last time around.
What's not to feel optimistic about?
Basking in the glow of all this hope, I can hardly contain myself. And with good reason — 10 of them, at least.
Here are 10 reasons why I'm excited about 2014:
1. So many books, so little time!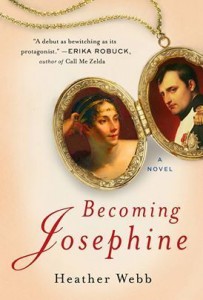 Books debuting this year that I'm especially excited about include GIRL ON THE GOLDEN COIN, by Marci Jefferson, which I read and really enjoyed; BECOMING JOSEPHINE by Heather Webb, another terrific debut — debuting Dec. 31, but still.
THE MAPMAKER'S DAUGHTER by Laurel Corona was terrific, too, and Iris Anthony's lovely pilgrimage book, THE MIRACLE THIEF. The inimitable Michelle Moran is writing THE LAST QUEEN OF INDIA, sure to be amazing. Alice Hoffman has a new one coming out, as do Erika Robuck, Diana Gabaldon, and Sharon Kay Penman. Whew!
And in 2014, I plan to read more by my new favorite author, the late Dorothy Hansford Johnson. I've just ordered the third installment in her wonderful Helena trilogy, A SUMMER TO DECIDE, having devoured TOO DEAR FOR MY POSSESSING and AN AVENUE OF STONE.
2. THE SHARP HOOK OF LOVE, a tale of Abelard and Heloise, debuts in October. I am so psyched about the debut of this famous love story, told many times in the past but not since Australian scholar Constant Mews (gotta love that name) discovered 113 passionate, beautiful "Lost Love Letters" between the two. I'm now writing two e-novellas about kick-in-the-pants women from HOOK — Queen Bertrada of Montfort, and Dangereuse, lover to William IX, Duke of Aquitaine, the first troubadour — both of which will also debut this year.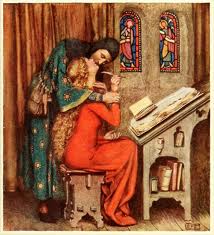 3. I am single, again. After 3.5 years of trying so hard to overcome critical differences in our personalities, my former b.f. and I have thrown in the towel on romance, but not on an enduring and loving friendship. This is a sad ending, but also an exciting time for me, opening up all kinds of possibilities for personal life choices. I could live anywhere! Paris? New York? Should I go to grad school and get my MFA in creative writing?
And after spending summer 2013 working frantically to meet a fall deadline for my novel, I've got road trips on my mind this year: Santa Fe, to see a cherished friend; Reno, to visit another. And, come hell or high water, I'm going back to Burning Man!
4. My freelance writing and editing business, Siren Song Copywriting and Editing, continues to grow. In 2014, I expect to serve more, better clients than ever with some of my very best work.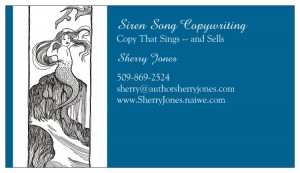 5. My 1909 house is going to get lots and lots of attention, as I transform it into my own personal Paradise. I'll paint every room, make curtains for all the windows, fill my house with greenery and art, plant raised beds for vegetables as well as perennials in my enormous yard (and maybe even a peach tree), and turn the spare room into a guest bedroom for friends, writers, and special guests, of whom I hope to have many in the coming year.
6. I'm going to make a boatload of new friends! I do every year, so why should this one be any different? I have such a wonderful community, here in Spokane and around the world — including you. I expect that, in the coming year, we'll get to know each other better and better.
7. My blog is going to really take off. In addition to updating my readers about my own books, I'm also going to post travel, food and wine articles as well as posts about writing and reading. Until now, I've been blogging happily for others, but neglecting my own website and blog. That's going to change this year.
8. My body is going to be its best ever! Because I'm exercising. Every day. It's now-or-never time, while I'm still in good condition. At 52, it's time to get strong, fit, and limber before my body rebels against my devil-may-care lifestyle. At least, if I'm in great shape, I may be able to keep the lifestyle.
9. I'll be speaking French fluently by the year's end! After all, I'll need to master the language for my tour of France promoting THE SHARP HOOK OF LOVE (That's optimism!). I also plan to learn how to write HTML code, to play jazz piano (I already play classical), and to become a cheese maker, because we're blessed.
10. In addition to fixing up my house, I'm going to become Spokane's Hostess Extraordinaire! Parties galore, as well as intimate dinner gatherings and even a salon or two are in the works. Come on by: the soup pot is always on, and I almost certainly have a bottle of wine or two to share.
Keep up with the Jones! Author Sherry Jones, that is. Subscribe now to this blog for updates on great reads, for glimpses into the writing life, for info on the forthcoming THE SHARP HOOK OF LOVE, and more. And do check out my website while you're here.
Posted in
Uncategorized
| Tagged
Abelard
,
Alice Hoffman
,
American optimism
,
Diana Gabaldon
,
Dorothy Hansford Johnson
,
Erika Robuck
,
Heather Webb
,
Heloise
,
Iris Anthony
,
Laurel Corona
,
Marci Jefferson
,
Michelle Moran
,
Middle Ages
,
New Year's resolutions
,
Paris
,
Sharon Kay Penman
,
Siren Song Copywriting
|
Leave a comment
October 9, 2013
It's launch day in Poland for my historical novel FOUR SISTERS, ALL QUEENS, which my publisher, Pascal, has named QUEENS.
I like their title, don't you?  Choosing a title for my own book is, for some reason, difficult for me. FOUR SISTERS, ALL QUEENS was my working title, but my editorial team at Simon & Schuster/Gallery Books  liked it.  At Random House, I offered several inferior title suggestions before we came up with THE JEWEL OF MEDINA.
Back to the Polish version — check out the gorgeous cover! I'd pick this one up from the bookstore table, wouldn't you?
It's interesting to me how different publishers choose different covers for a book, depending on their market. In Italy, Newton Compton published FOUR SISTERS, ALL QUEENS with a bold, red-and-white cover. It debuted last May.
For those of you who don't know about FOUR SISTERS, ALL QUEENS, it's a tale of love, lust, and revenge in 13th century Europe. Think of it as sort of a medieval LITTLE WOMEN. The four daughters of the Count and Countess of Provence, educated by their mother as though they were boys, marry the kings of France, England, Germany, and Sicily.
Although brought up to honor their family first and foremost, sister turns against sister in a battle over inheritance of their beloved homeland as well as rivalries between the kingdoms they govern. This critically acclaimed book, like all my novels, explores women's power in a man's world. In addition to the four sisters — Marguerite, Eléonore, Sanchia, and Beatrice — FOUR SISTERS, ALL QUEENS introduces a number of other kick-ass queens, as well: Blanche de Castille, the inimitable White Queen of France; Isenbourg of Denmark; and Shajar al-Durr, the formidable Queen of Egypt.
The first publisher to bring out my new book, after Simon & Schuster in the U.S., was Beobook in Serbia. They released it concurrently with my U.S. release, and brought me over for a media tour and several (well-attended) signings. Loving Belgrade and the Serbian people as I do, it was a real treat.
Beobook gave FOUR SISTERS, ALL QUEENS a fairytale-like cover, which I also adore.
I'm excited to see what the rest of the world does with my book.
We've sold translation rights in the Czech Republic, Albania, Russia, and Turkey, as well. As the new covers come to me, I'll be certain to share them with you. Meanwhile, tell me — which of these covers do you like best?
Wait! Are you a subscriber to my blog? Please go to my home page, www.authorsherryjones.com, and enter your email address to receive this blog in your inbox. Keep up with the progress of my forthcoming novel about Heloise d'Argenteuil and her ill-starred romance with Peter Abelard; read about other historical novels and their authors; learn about history, watch videos, enter contests, and more.
Posted in
Uncategorized
|
Leave a comment
September 24, 2013

It's Banned Books Week! Did you know my first novel, THE JEWEL OF MEDINA, has been banned in several countries including Malaysia and, when I went there in 2011, Egypt? Why? Because I wrote about the Prophet Muhammad and his youngest wife, A'isha. Before it was even released, the book spurred an angry demonstration in Bangladesh, death threats against me, and an attempt on my British publisher's life. He canceled his plans to publish my book, and no other British publisher will touch it. This means THE JEWEL OF MEDINA has been effectively banned in the UK and Commonwealth countries, as well, including India, New Zealand, and Australia. (It is now available on Amazon UK, however.)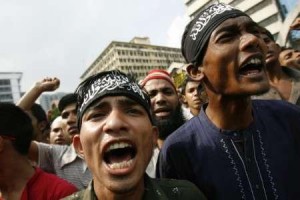 In the US, my original publisher backed out of publishing only 2.5 months before THE JEWEL OF MEDINA's release, citing warnings that they might be attacked by terrorists. We found another, very small publisher after 8 big New York and L.A. houses considered it — 6 of them declining out of fear! Beaufort Books, my U.S. publisher, could not afford to release the book in paperback, however, and so many bookstores don't carry it or the sequel, THE SWORD OF MEDINA, which is also banned in many countries. This is another kind of censorship.

Salman Rushdie called Ballantine/Random House's decision not to publish "self-censorship."
Rushdie has also said, "Without the freedom to offend, there is no freedom of speech."
The good news: these two books are sold in many other places around the world, and have been international best-sellers. Readers still write, tweet, and Facebook to me telling me how A'isha's story has touched their lives. For all its effort to suppress ideas, censorship loses again.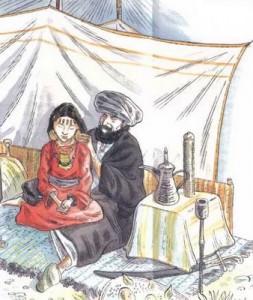 When I get my publication rights to JEWEL again in 2015, I'm going to release it all around the world. I'm also looking for an Arabic translator so we can bring it out in Arabic online. A'isha was the most famous and influential woman in Islam, and Muhammad was a big reason why — a story that ought to be told in their language.
Want to hear more about my experience and those of other authors? Come to the Auntie's Bookstore panel on censorship tonight at 7. Jill Malone, Doug Clark, Shawn Vestal, and Chris Crutcher will join me for what promises to be a lively discussion. Hope to see you there!
Not a subscriber? Why not? Subscribe now to get the latest updates on my books, including my forthcoming novel, THE SHARP HOOK OF LOVE, telling the story of Heloise d'Argenteuil of Heloise & Abelard fame, debuting from Simon & Schuster/Gallery Books in october 2014.
Related posts:
Courage, Islam, the West, and THE JEWEL OF MEDINA
Death Threats, Fatwas, and Feminism
Posted in
Uncategorized
| Tagged
" "Random House"
,
"The Jewel of Medina
,
"The Sword of Medina"
,
A'isha
,
Ballantine
,
Beaufort Books
,
Gibson Square Books
,
historical fiction
,
Islam
,
Muhammad
|
Leave a comment
September 5, 2013
The best part about fall: The food
I'm always a little sad when summer ends, but nothing chases those blues away like a good, hearty autumn meal. Oktoberfest being right around the corner, I got a hankering last night for some German cuisine – and found on Epicurious a recipe for Bratwurst with  Sauerkraut and Apples that was so good, I'm eating the leftovers for breakfast this morning.

It's so good, I absolutely must share it with you.
Deceptively simple to prepare, this dish, as with all fine cuisine, starts with the best ingredients you can find.
You'll need 4-6 bratwurst: I got mine at the Parkside Grocery down the street from my house, a little Hutterite-owned store with an in-house butcher. They are utterly delicious.
You'll also want to get fresh sauerkraut, if possible. I used Bubbie's brand, which is all-natural. When my novel is finished, I might even try making my own kraut, although it's hard to imagine its tasting better than Bubbie's.
The original recipe for this dish called for some things I didn't have: Wondra flour, which is a finely ground, "instant" flour (I used cake flour, but reviews on Epicurious say all-purpose works fine); vermouth (I used red wine); beef broth (homemade chicken broth). I also had only one apple, while the recipe calls for 3. I think 3 apples would have made the dish too sweet.
I didn't pay attention to the cooking time, which is a bad habit of mine. After the initial 45 minutes of cooking, you'll remove the foil from the dish and brush melted butter on the brats, then cook for another 25 minutes until they are toasty brown. We didn't eat until around 10:15 p.m., but the result was well worth the wait — crunchy and savory and tangy and salty and a little bit sweet. Bob had seconds. I really, really wanted to, but now, as I savor the deliciousness this morning, I'm so glad I exercised the self-restraint that, at the time, felt heroic.
And now, the recipe:
To make this dish, crush 1 tablespoon caraway seeds and 1 tablespoon fennel seeds and mix them with 1 tablespoon flour and about 1/2 tablespoon black pepper. You can do this in a plastic bag or, as I did, in a mortar and pestle. Sprinkle 1/3 of the flour mixture over the bottom of a 13-by-9-by-2-inch glass or ceramic dish.
Slice 1/2 of a large onion and a whole, cored apple very thinly. Rinse the sauerkraut – my jar was 25 ounces or so – and squeeze it dry.
Spread the onion over the flour-seed mixture. Top it with half the remaining flour-seeds, then half the apple slices, then the rest of the flour. Spread the sauerkraut on top of that, then arrange the brats over all.
Mix together 3/4 cup chicken broth, 2 tablespoons wine or vermouth (one reviewer said cider vinegar works well, too), and 2 tablespoons ketchup, then pour it over the dish. Tuck in four bay leaves. Cover the dish tightly with foil and bake at 400 degrees for 45 minutes. Savor the aromas that will fill your house, and mouth, with gustatory anticipation.
Uncover the dish and brush 1 1/2 tablespoons melted butter onto the brats. Cook for 25 minutes more. Serve with black bread and a hearty German beer. Or, if you don't have beer, wine will more than suffice. We had a delicious Spanish garnacha, Evodia, which I got from my favorite wine shop, Vino!, at a very good price. (I have never had a bad wine from this great little Spokane store.)
Now, dig in! Try to avoid eating the entire dish in one sitting, though. It won't be easy, but you'll thank yourself in the morning.
Enjoy this post? Please subscribe by adding your email address on my home page, http://www.authorsherryjones.com.
Posted in
Uncategorized
| Tagged
bratwurst
,
cooking
,
fall food
,
German food
,
recipes
,
sauerkraut
|
Leave a comment
September 1, 2013
Malgré lui: 'In spite of himself'
Humans are strange. The things we swore we would never do, we do. The people we said we would never become, we become.
You know, like growing up with abusive parents and then abusing your own kids.
I've been able to avoid doing to my daughter the things my parents did to me, but what about the way I've turned away from my mother? Am I treating Mom the very way she has treated me? In spite of my vows to the contrary, have I become like her?
I told my lover, Bob, about my feelings of guilt over not returning phone calls to my mother, who has borderline personality disorder but doesn't know it (and I sure as heck am not going to be the one to tell her). Do I fear that my college-age daughter will abandon me because I deserve it, having abandoned Mom?
"Your mother abandoned you, remember?" he said.
My abandonment story
Oh, yeah. In May 2012, I went to North Carolina, which is across the country from where I live, to give the keynote speech at a college graduation ceremony. Mom knew months ahead of time that I was coming, yet found reasons not to attend my speech or to see me during my entire 10-day visit — not even on Mother's Day. I sobbed on the night before Bob and I flew home, feeling utterly abandoned.
A month later, I called her and told her how I felt about what happened.  She lashed out verbally, as usual, and hung up the phone. A day or two later, a cousin told me that Mom had changed her phone number and unlisted it,   and that I wasn't allowed to have it. I felt stunned, but I knew she'd be back. I've heard this song before, many times.
I did cry, though, on her 70th birthday, when I was unable to call her. I reminded myself: this is what she wanted. Plus, I told myself, I'm better off without her abuse. Still, I couldn't help feeling sad.
Shortly before Mother's Day this year, she called me at midnight. It must have been 3 a.m. on the East Coast. I didn't get the call, but she called again on Mother's Day. I got her phone number, told her I was on my way out the door (this was true) and promised to call later in the week.
But I never did. I don't know why; I just don't really care to talk with her. I love her, but I don't trust her not to hurt me.
Borderline Personality Disorder and abandonment
In therapy, I'm working on my own "abandonment depression" and other issues BPD people suffer. My therapist says I'm not BPD, but I do have some of the symptoms, probably learned from my mother.
Doing my self work, including reading the excellent book Another Chance to Be Real, has given me compassion for Mom, and helped me to see that her verbal lashing out isn't really about me at all.
Someday, when I've given full expression to my "real self" instead of acting out of fear that those I love will abandon or reject that self, I'll call her back. Then, I think, nothing she can say will hurt me.
And perhaps I'll be able to ease her pain by helping her to see that I haven't abandoned her, after all, but just taken time for me — not the compliant "me" she wants or needs me to be, but the autonomous, powerful, strong, authentic me — the self I need to be.
Posted in
Uncategorized
| Tagged
borderline personality
,
BPD
,
daughters
,
mental illness
,
mothers
,
parenting
,
personality disorders
|
Leave a comment
August 31, 2013
She's in college, but so what? She'll always be my baby.
I never meant to be this way. I raised her to be independent.  When she was able to walk, I gave her her own snack cabinet and the lowest shelf in the fridge. We negotiated her curfew on a case-by-case basis. I gave her my brand new car to drive around town, told her not to drink and drive, and didn't worry. I trusted her to make good choices. I knew she'd make mistakes, but told her I'd be here if she needed me — and I was. Drive 45 minutes to pick her up from the party she's stuck at? Absolutely. Every time, and cheerfully.
Has distance made me clingy?
I hardly talk to my mother. It is a conscious choice, for reasons of my own, for the time being. My daughter's experience with me is not the same as mine with my mother — or so I think. Am I more like Mom than I realize?  The day my girl was born, I looked at her and saw my profile. "This is my chance to get it right," I said, then forbade myself to ever think that again.  Also, "I'll never be lonely again."
And then, "Don't be an idiot."
She can take care of herself.
My girl has demonstrated this many times. Now that she's gone 350.9 miles away, though, I find myself worrying about her far more than I did when she lived with me. I suppose this is normal; I can't be her safety net so far away. But I wonder: Is my guilt over withdrawing from my mother causing these anxieties in me? I worry that she'll shut me out from her life, too. I told her that, and she said we have a connection that can never be broken. I know this, of course, and I also know something else.
She loves me, but she doesn't need me.
She is secure in herself in ways I have never been. She needs me to step back now and trust in everything I've taught her and let her learn, and, even more, to trust in her. But, even though she's a 5.5-hour drive away, it's only an hour by plane. She won't need me to pick her from that party — she's not a girl anymore, and knows how to call a cab. But the things an adult daughter needs her mother for, I'm there.  Every time, and cheerfully.
Posted in
Uncategorized
| Tagged
adult kids
,
college
,
helicopter parents
,
letting go
,
parenting
|
2 Comments
July 29, 2013
In these times when anyone can publish a book with the click of a mouse, finding a literary agent is too often an afterthought, or no thought at all. Just as most of us wouldn't go to court without a lawyer, however, we shouldn't enter into publishing without an agent. Because, in an industry where writers are "content providers" making money for others , an agent is still, too often, an author's only advocate.
That's what four other authors and I told our audience recently at the Romance Writers of America Conference in Atlanta. In "My Agent Saved My Life: What a Good Literary Agent Can Do for You," romance authors Mia Marlowe, Mary Connealy, Zuri Day, Vanessa Miller and I talked about five ways our agent, Natasha Kern, went to bat for us and got us out of some very dire — even nightmarish — situations.
Indeed, we might have titled the panel, "My Literary Agent Saved My Ass." 😉
Here, inspired by Kern's own blog post for Seekerville, are five things a good literary agent can do for authors:
1. Negotiate your contract. The publisher's job — via an editor, or directly — is to get the very best deal for the company, be it Amazon, a small indie,  or a big publishing house. Make no mistake: if they could pay you no royalties at all, or keep the rights to your books forever, they would do so. Some even try: Connealy told of a contract she'd signed under a different literary agent — one that, unbeknown to her, gave her publisher perpetual rights to all her future books. These kinds of stories are all too common. Kern stepped in and negotiated hard with the publisher to change the terms which, she said, were illegal. That's what a good agent will do.
2. Manage your career. How many lists have I sent my agent of historical fiction book ideas? She reads them and tells me which ones sound like great ideas, which ones are just so-s0, and which ones I should NOT write.
To some authors, an agent's giving advice on what editors will want sounds like a suppression of creative expression. For authors wanting to make a career out of writing novels, however, it's so helpful to have an agent to offer an informed opinion about what works in the market at any given time, and what does not.
An agent can also help an author to switch to another genre, as Kern did for Zuri Day. She'd written several contemporary novels before her editor asked her to try romance. She sent her first romance to Kern, then sat back and waited for the accolades. Instead, Kern told her she'd gotten it all wrong.
"This is not a romance," Kern said. "What you have is another contemporary novel." A good literary agent has the courage to tell an author the truth about her work.
3. Plan for the termination of rights.
The publishing industry has never been more volatile than it is now, with big houses gobbling up other big houses — Random House acquiring Penguin, for instance — and smaller houses closing their doors, as Dorchester did in 2012, leaving Mia Marlowe with a backlist of titles owned by a company that could not longer publish them. Kern got her those rights back and helped her self-publish those books.
A good agent will also make sure an author's contract has a termination clause, reverting publishing rights to the author after a certain amount of time. What if your publisher buys all rights, but doesn't use them, as Beaufort Books did with THE JEWEL OF MEDINA and THE SWORD OF MEDINA? Published in 2008 and 2009, they're out in hardback and ebook only — no paperback and no audiobooks. Kern has asked Beaufort's publisher to revert those rights to me but he declined, not because he plans to use them but because, as he told me, he's hoping someone will buy them from him. He even offered to sell them to me! Because I have a great agent, though, all rights automatically revert to me seven years after publication, at which point I'll either find a new publisher to bring them out properly or do it myself.
4. Plan for career growth and development.
Already a successful romance author, Vanessa Miller wanted to write Christian romance, but publishers weren't buying hers. Kern, however, dogged them until someone took on her Christian-themed books, getting her a three-book deal with a six-figure advance. Today, she's the winner of several writing awards and an established author in her chosen genre. Helping an author to live her dreams is what a good literary agent can do.
Want to hire a publicist? An agent can help you find a good one. Looking for a great website designer, or book cover designer? Ditto. Want to see your book published in foreign countries? My agent has landed me book deals in 19 languages.
5. Stand by the author.
When Ballantine Books decided to "indefinitely postpone" publication of THE JEWEL OF MEDINA and THE SWORD OF MEDINA, Kern supported my decision to terminate our contract. She negotiated an agreement that got the rest of the advance Ballantine owed me (thanks to some brilliant language she'd written into my contract with them) as well as the publication rights to my books.
Then, when the media got the story and ran with it, my agent helped me do interviews. That's right: I was so overwhelmed that she actually did some interviews for me. When my British publisher's home office was attacked, she stepped in again and helped me deal with the flood of media requests that came our way. All along, she encouraged, supported, and praised me. No matter how busy she was with all her many other clients, she always made time for me when I called. Her support helped me deal with a devastating disappointment, death threats, broken promises, and betrayal — and she reminded me many times that my books had the potential to make a difference in the world.
My agent: I could not, and would not, do this without her. Just as no one would try to sail a ship without a captain, no author should try to navigate the treacherous waters of the publishing world without a good literary agent. A quality agent is an author's best friend.
Subscribe to this blog now for advice and commentary on the writing life, book reviews, interviews, and other posts about writing, reading, and living.
Sherry Jones is an internationally best-selling author of biographical and historical fiction, including THE JEWEL OF MEDINA, THE SWORD OF MEDINA, FOUR SISTERS, ALL QUEENS, and WHITE HEART.
Posted in
Uncategorized
| Tagged
agents
,
authors
,
contracts
,
foreign rights
,
indie publishing
,
publishing
,
self-publishing
,
writing
|
Leave a comment
← Older posts
Newer posts →